Whether you are new to analytics or seasoned analytics professional, a CEO looking to leverage data as an asset or a marketing manager looking for DIY tricks to start making smarter business decisions, our white-papers and downloads on fundamental analytics framework can help, so download now.
Please visit our Individual data science training page to download the following -
Aryng's Handbook For Resume Writing -

This 2017 handbook includes tips on how to make an awesome analyst resume with a real sample resume of an Aryng student from the 2016 Career Transition batch.
BADIR™- 5-steps from "Data to Decisions"™

-

$120K incremental revenue identified with 2 hours of analysis

We did it, so can you! Using BADIR– Aryng's 5-Step Data to Decisions™ analytics framework. In this white paper you'll discover how leading organizations are successfully overcoming the data deluge by turning mountains of data from tools like Google Analytics (or any data tools for that matter) into valuable decisions that drive positive business results. We identified $120K incremental revenue for an Oregon based Winery and Wedding Events company using the 5-step BADIR framework with just 2 hours of analysis. This white paper will walk you through the Winery example so you too can take the 5-step framework to your organization. Get access to full white paper by filling the form on this page.
The Burtch work studies salaries of data scientists
The Burtch work studies salaries of Predictive Analytics Professional
Please visit our data literacy page to download the following-

Data Literacy Whitepaper - Learn, what is data literacy, why is it important for an organization and learn how to go about building data literacy so that it moves the key metrics of an organization.
Data Culture Assessment (Analytics Maturity Quotient)- What differentiates companies mature in analytics and having a culture of data, from those who are not there yet? How do companies mature through the analytics cycle? What are the key steps towards building a culture of data? (Original Forbes blog can be found here).
Please visit our consulting page to download the following-
Behind Every Good Decisions: Chapter 7 – Analytics and Leadership- What is the role of leadership in building a data-enabled organization? What are the key attributes by which a leader can assess his/her own organization's analytics maturity? What kind of analytics talent is needed to really compete on analytics? Chapter 7, of Behind Every Good Decision helps answer all this and more.
3 Key Analytics Questions to Ask Your BIG Data(setting up the Analytics Agenda) - Every organization is collecting data today, but very few know what to do with it. Part of the challenge is, organizations don't know what to ask of data? Where to begin? They have made multi-million $ investments in instrumentation and collecting BIG data through hadoop-cluster, spitting out billions of rows and thousands of columns, but now what? Where to go next? (Original Forbes blog can be found here)
This white-paper lays out the 3-key question: How am I doing?, What drives my business?, Who are my customers, what are their needs? and the "MPC" approach to answering these questions. MPC is Aryng's proprietary "3 pillar analytical framework" to align organizations towards the most critical KPI. The 3 pillars are: Measurement Framework, Portfolio Analysis, and Customer Analysis.Get access to full white paper by filling the form on this page.
Aryng - Enabled $18M in incremental revenue by reducing product friction for a Payment company

Aryng - Drove $20M+ by developing product recommendation engine for a Fortune 500 company

Aryng - Drove increased sales by offer optimization for a manufacturing company

Aryng - Marketing Mix Model identifies $1.2M in opportunity for a software company
Aryng - Enabled inventory shuffling by identifying growth drivers for an entertainment company
Aryng - Drove $35M by increasing marketable universe by 4X for a Technology Company

Aryng - Generated $20M by marketing optimization for a Financial Services company
Aryng - Improved conversion by 26% by optimizing web and mobile design for an online services company.
Aryng - Increased NPS by 10% point using Text Analytics and Sentiment Analysis for a staffing giant

Aryng - Enabled talent identification for robotics market for a Fortune 100 company.
Aryng - Improved talent acquisition by increasing application rate by 30% for a healthcare organization.
Aryng - Analytics Leader L&d Playbook
Aryng - Reduced losses by Fraud optimization for a Fintech Giant.
Aryng - Drove 20% growth by shuffling SKU's and category for an e-commerce company
Whitepaper links
Your Instructor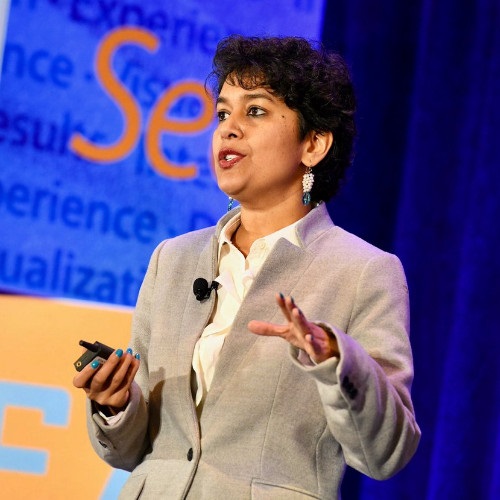 Author of the Amazon bestseller Behind Every Good Decision
Piyanka Jain is the President and CEO of Aryng, an analytics consulting company focused on analytics training, consulting and recruiting. Her client list includes companies like Google, Box, Here, Applied Materials, Abbott Labs, and GE. As a highly regarded industry thought leader in analytics, she writes for Forbes, Harvard Business Review, InsideHR, and other publications. She has been a featured speaker at American Marketing Association conferences, Microsoft Modern Workplace, Predictive Analytics World, Growth Hacker TV, GigaOm, Google Analytics User Conference and more. In 15+ years as an analytics leader, she has had a $200M+ demonstrated impact on business. A gifted problem solver, she seeks out patterns and insights to drive change in her clients' organizations and impact top levers of business. She considers customer satisfaction, empowerment and positive engagement as the highest rewards, and dollar impact as a natural consequence. Her best seller book 'Behind Every Good Decision' is an actionable guide for business managers on data-driven decision-making through business analytics.
She has two master's degrees with theses involving applied mathematics and statistics. A hiker, runner, and yogi, she lives in Sunnyvale, California.