How does the real-client project work? What am I expected to do?
After finishing the course/courses, students form project teams. Each project team works to solve a real business problem they are facing using the structured BADIR framework they have learned in the class.
The projects take 3-4 weeks to finish. The teams start with a real business question, layout a hypothesis-driven plan, collect data and present actionable insights.
Aryng trainees have identified actionable insights that have driven millions of dollars in impact for our clients.
Here are some sample client projects from the past:
California Department of Motor Vehicle - Estimate and reduce revenue losses due to fraud
Just Answer - Identify detractors of cart conversion produced $4M in impact
Namo Solutions - Understand drivers of growth and identify product up-sell opportunities delivered $5M+ in impact
Employ Bridge - Determine reasons for customer churn and low NPS score - ongoing
Symantec - Optimize Market Distribution Fund
GE - Mapping robotic talent and skills in Greater Boston Area for GE HR strategy - $5M+ potential impact
After finishing the project, trainees usually get a LinkedIn recommendation from their respective project owners.
Your Instructor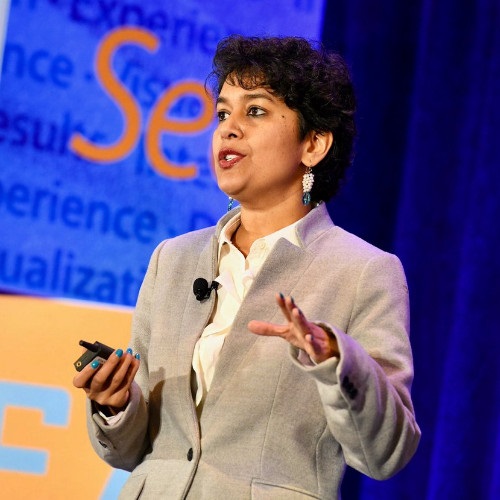 Author of the Amazon bestseller Behind Every Good Decision
Piyanka Jain is the President and CEO of Aryng, an analytics consulting company focused on analytics training, consulting and recruiting. Her client list includes companies like Google, Box, Here, Applied Materials, Abbott Labs, and GE. As a highly regarded industry thought leader in analytics, she writes for Forbes, Harvard Business Review, InsideHR, and other publications. She has been a featured speaker at American Marketing Association conferences, Microsoft Modern Workplace, Predictive Analytics World, Growth Hacker TV, GigaOm, Google Analytics User Conference and more. In 15+ years as an analytics leader, she has had a $200M+ demonstrated impact on business. A gifted problem solver, she seeks out patterns and insights to drive change in her clients' organizations and impact top levers of business. She considers customer satisfaction, empowerment and positive engagement as the highest rewards, and dollar impact as a natural consequence. Her best seller book 'Behind Every Good Decision' is an actionable guide for business managers on data-driven decision-making through business analytics.
She has two master's degrees with theses involving applied mathematics and statistics. A hiker, runner, and yogi, she lives in Sunnyvale, California.