FREE VIRTUAL Analytics Classes
We have a series of exciting webinars and casual Cafe sessions coming up.
Please select the ones that are relevant for you. If you are looking to begin your analytics career transition, make sure you have already taken Aryng's FREE analytics aptitude test here.

---
Analytics Masterclass Series
5 Steps To Successfully Transition Your Career To Analytics And Data Science: In this 60 minutes masterclass, you will discover how to transition to an analytics career with ease. Learn how to assess your analytics aptitude to avoid choosing the wrong path. Understand how to target and refine your dream analytics job. Learn how to uncover and remove the 3 most common mind blocks to successfully transition to a new career. Discover the top 3 strategies to identify the right analytics training for you. Learn how to make the perfect 8-second resume that will send recruiters chasing after you. Learn about the 8 tips for acing your interviews.
Top 6 Mistakes to Avoid in Your Analytics Career Transition: In this 60 minutes masterclass, you will uncover 6 potholes you must avoid in your analytics career path. Learn what choices would make the easiest transition possible. Hear what others on the same path as yours are doing right. Discover the top 3 strategies for success with your transition. Learn the 5 musts for your career transition path.
Top 10 Business Questions For Day 1 Of Your New Analytics Career : Come hear from senior industry experts and Aryng clients - Keith Wisner,VP, Workforce & Supply Chain Analytics at EmployBridge and David Bernstein, Head of Strategic Partnerships & Product Marketing at ThisWayGlobal as they share their insights with Piyanka Jain, CEO, Aryng, on what they expect from an analyst and their experience working with Aryng trainees. In addition, Data Analyst, Neha Ganjoo shares her own career transition journey and gives specific advice to others on the same path. In this 60 minutes masterclass, you will learn about BADIR™, a simple yet powerful recipe to solve any business problem. Understand the top business questions you should be prepared to solve on Day 1 of your new career. Learn the 7 most common analytics methodologies applied in business today. Hear from the 3 Analytics leaders from top companies to understand what they are looking for in an analyst, Discover the top must-have skills for your interview and your job.
---
Aryng Analytics Cafe Series

Casual Expert Conversations That Inspire
Playbook for Setting Up an Analytics COE and Hiring the Right Analytics Leader: CXO's - Have you been thinking about bringing together all the various analytics functions within your organization into a central Center of Excellence (COE)? Have you already hired an analytics leader and the following team, but not getting what you expected from the team and the leader? Is the BigData not delivering to your vision?Then this online session is for you! Come hear from senior industry experts Ramkumar Ravichandran, Director, Analytics, Experimentation and Data Science, at Visa and Piyanka Jain, CEO, Aryng, on why such efforts fail, how to go about establishing successful Analytics COE and, hiring the right analytics leader/s.
L&D Leader's Playbook for Driving Internal Data Analytics Capabilities : Is Data Analytics a high priority skill for your organization? Are you struggling to find the right learning strategy? Maybe your current Data Analytics training has stalled out or is hindered by a lack of internal expertise or resources. If so, this online masterclass is for you. Join seasoned industry experts - Susan Stocker, global L&D leader, and Piyanka Jain, Analytics thought leader and CEO of Aryng in this FREE virtual session as they join hands to give you practical tips to build your data analytics capabilities internally.
They will discuss why and how L&D and Data Analytics leaders need to work together to identify and sustain the right approach for you and your business.
Your Instructor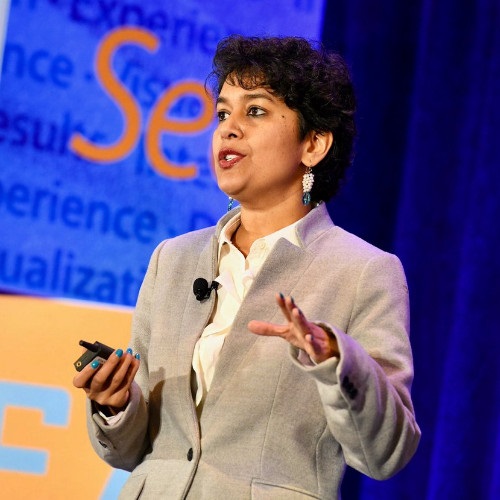 Author of the Amazon bestseller Behind Every Good Decision
Piyanka Jain is the President and CEO of Aryng, an analytics consulting company focused on analytics training, consulting and recruiting. Her client list includes companies like Google, Box, Here, Applied Materials, Abbott Labs, and GE. As a highly regarded industry thought leader in analytics, she writes for Forbes, Harvard Business Review, InsideHR, and other publications. She has been a featured speaker at American Marketing Association conferences, Microsoft Modern Workplace, Predictive Analytics World, Growth Hacker TV, GigaOm, Google Analytics User Conference and more. In 15+ years as an analytics leader, she has had a $200M+ demonstrated impact on business. A gifted problem solver, she seeks out patterns and insights to drive change in her clients' organizations and impact top levers of business. She considers customer satisfaction, empowerment and positive engagement as the highest rewards, and dollar impact as a natural consequence. Her best seller book 'Behind Every Good Decision' is an actionable guide for business managers on data-driven decision-making through business analytics.
She has two master's degrees with theses involving applied mathematics and statistics. A hiker, runner, and yogi, she lives in Sunnyvale, California.
Panelists
Susan Stocker, Ex-Head of Learning & Development, GE

With 20+ years as an L&D executive, Susan has worked with business leaders and led learning teams around the world strengthening and transforming the workforce to meet the rapid demands of globalization and digitization. As a global learning leader at GE she developed new and innovative learning solutions, across multiple industries, products, and functions.As a certified Agile Practitioner, Susan has been on the leading edge of transforming the learning function to rapidly deliver a modern learning experience and apply new technology. She has been a beta user of many learning technologies, often years before becoming mainstream. Never satisfied with the status quo, Susan recently launched a practice called The Training Manager Group where her mission is to disrupt the way L&D/Training managers develop their own talents and grow their careers. Her unique approach includes partnering with top experts outside the learning industry, like Piyanka Jain, to specifically address L&D managers and their current challenges in a customized learning experience. More information about Susan and her new group can be found at www.trainingmanagergroup.com.
Keith Wisner, Vice President, Workforce & Supply Chain Analytics

Keith Wisner is Vice President of Workforce & Supply Chain Analytics at EmployBridge, the largest light industrial staffing company in North America with sales of over $3 billion.Its divisions specialize in sectors which include manufacturing, logistics and transportation. He has over 26 years of industry experience across a broad spectrum of business areas including Field Operations, Senior Management, Marketing, Brand Management and, currently, Analytics.




David Bernstein, Head of Strategic Partnerships & Product Marketing, ThisWay Global

ThisWay Global is a cloud-based AI, Analytics, and Automation software company that enables companies to accelerate their Recruiting efforts by accurately Sourcing and Matching the talent they need, when they need it. David has been an HR Technology Leader for over 20 years. Throughout his career, he has relentlessly pursued driving data and analytics to the forefront of the Human Resources profession. Prior to his role at ThisWay Global, David led the Product Management efforts for two very large HR Analytics platforms.



RamKumar Ravichandran Director, Analytics, Experimentation & Data Science, Visa

As the Director of Analytics & A/B Testing, I am responsible for enabling a Data Driven Decision Making culture. My team's value propositions span strategy enablement, execution optimization and impact augmentation with the Analytics Value Chain framework (Analytics-User Research-A/B Testing) for stakeholders across Product, Marketing and Relationship Management. Critical focus areas are Conversion Rate Optimization, Customer Lifecycle Management and Strategy Analytics. A fervent believer in power of data, importance of iterative learning and growth mindset. Hit me up on value of Big Data, Responsible leadership with Data and Artificial Intelligence applications.

Neha Ganjoo, Data Analyst, County of Santa Clara

Neha is an alumni of Aryng's Career Transition program. She has 4 year of experience in business analytics with total 8 years of professional experience in financial data analysis, business analysis, research, reporting and estimation.